Ohmygossip.com / Ohmygossip Couture / Celebrity Birthdays / Celebrity Deaths / Celebrity Baby News / Celebrity vacations / Reality TV news / Millionaires / Celebirty Travel News NordenBladet.com / Society & Business / Travel & Culture / Home & Kids / Health & Spirituality / Helena-Reet Ennet´s blog / Daily news from Scandinavia / Royals / Climate crises

Iina Koppinen: Working and vacation in Italy – medieval castle Izzalini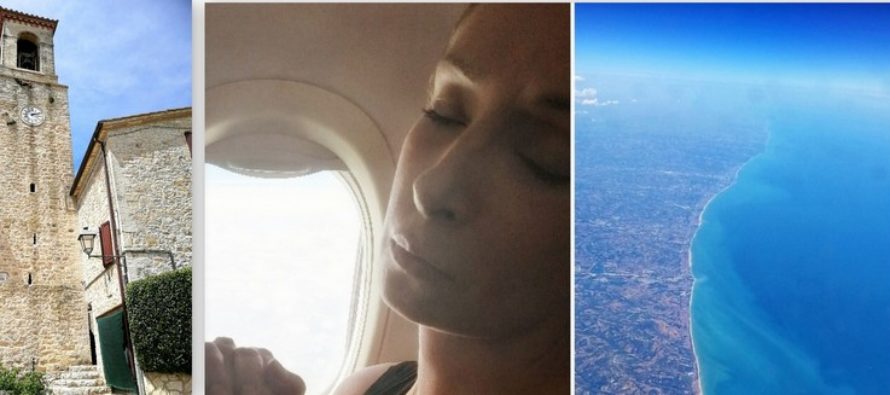 OHMYGOSSIP – The best thing in Italian culture and lifestyle is they know how to have fun and enjoy every moment of life – they call it la dolce vita.  It is so remarkable difference to my domestic culture in Finland.  I love spend time at those piazza restaurant's and cafe's, work while drinking espresso and join those people doing the same thing late in the morning.  I want preserve their lifestyle – assume this and never forget these moments – it turned to be mindfulness now.  It is essential to remember how to enjoy moments of life.  So, don't worry – time goes still, everything is going to be alright, we all know.  If you make yourself happier and more cheerful, you should do it anyway, even though anyone is against and saying you should not..
Lifestyle in my own head, well.. now I believe more in this relaxing and not so busy life – it is the experience called Italy. I felt has something in my personal comfort – you can feel this passion and joy of life, self esteem, taking care of yourself.
Refreshing and bravest thing what you can do in this era and to share is be what you really are. The wisdom of life, shining intelligence – if anyone has this, it is not avoiding from mistakes, or you are and always will be uncompleted.  I am telling about this in my interview which was published in local newspaper, to be exact I received it when travelling.
Italy is much more than Milan which seems to be center of fashion, success and wealthy. Italy is much more than eternal city of Rome, its history, medieval blocks and arts.
Italy is a great adventure and experience, who ever you are, taste it, satisfaction guaranteed!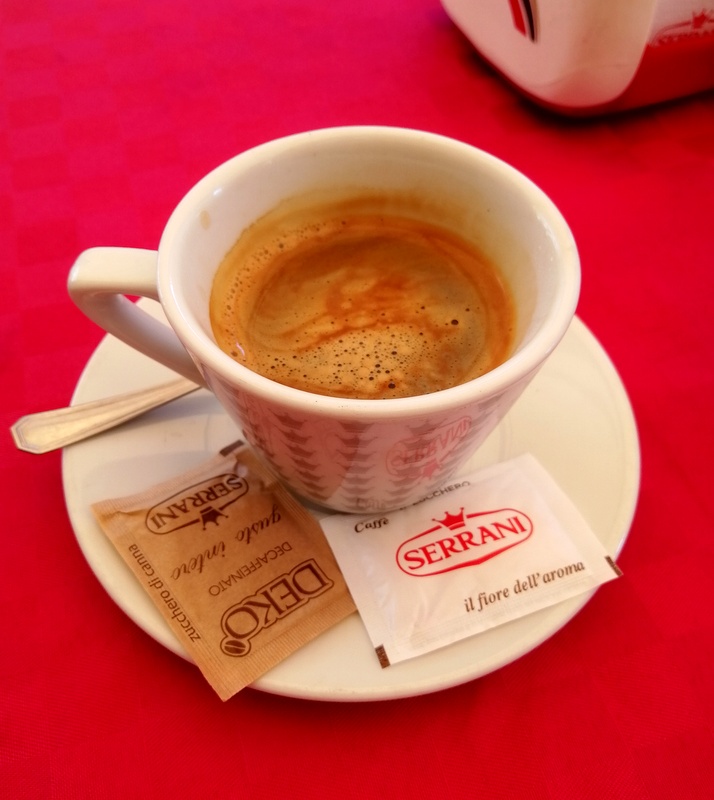 photo Iina Koppinen | Todi | Italy | espresso!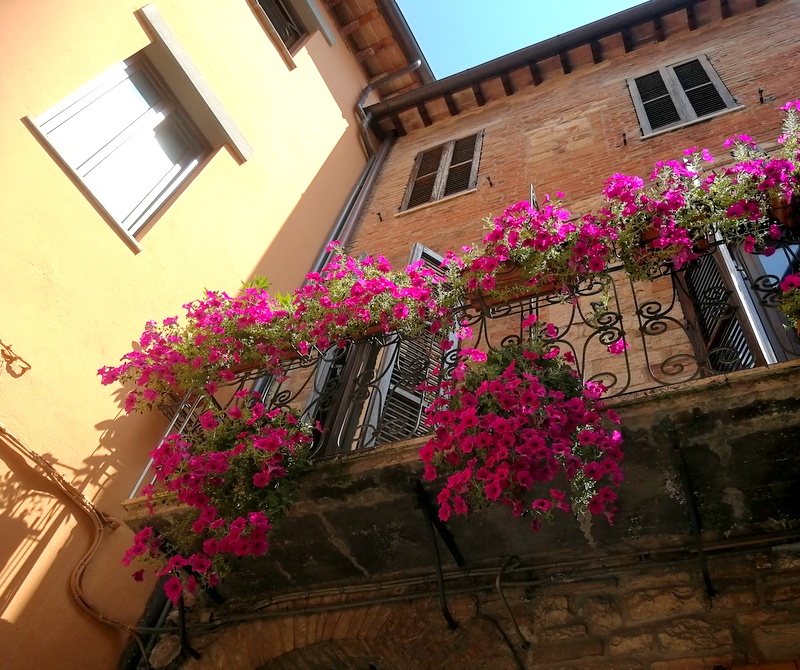 photo Iina Koppinen |Todi | Italy | 2018 | Flowers hanging down towards the alley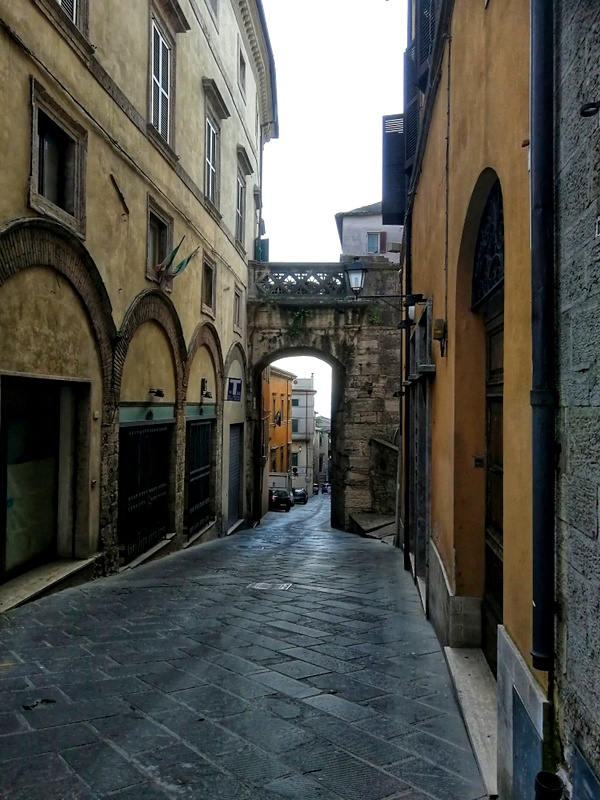 photo Iina Koppinen | Todi | Italy 2018 | Todi's streets and alleys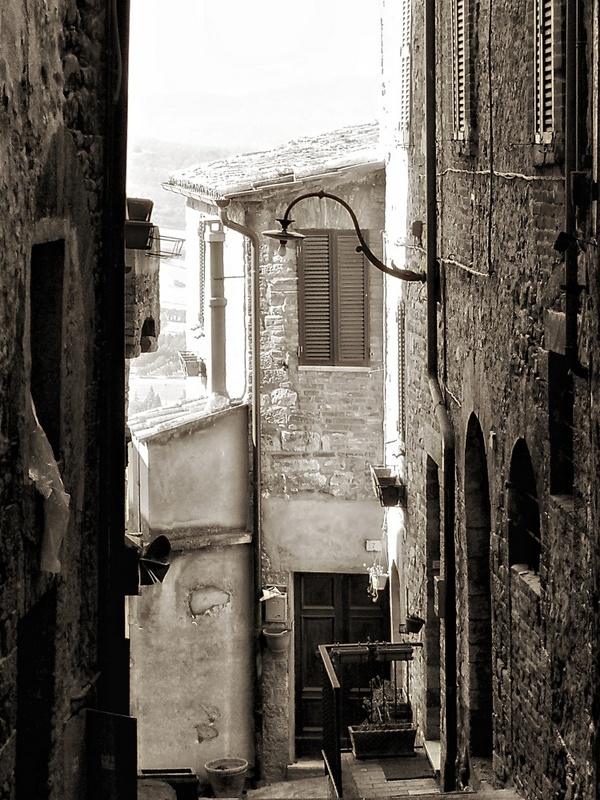 photo Iina Koppinen | Todi | Italy 2018 | Alley | artphoto
I would not spend long periods or work here, or could not live here permanently. The things are not working in the way I am used to. Still.. I want the best parts of this lovely country, not the promises to do things which probably never happens, this could be my life here. Waiting taxi for hours, when the driver say I will be there in minutes. Yammer? I think I am not.. I just presume things should happen as promised. If you are living here, studying, working, better forget many things in daily life. I don't care about those grievances anymore, but the many things are not easy to understand in my Scandinavian reality.
Taxi driver from hotel to Todi was very friendly and talkative, I felt my uncertain withdrawn way to talk with this friendly Italian manner of speaking. I tried to focus my mind for photographing, I admired those huge landscapes,  I slipped away to my own imaginations – then, suddenly the driver asked is everything o.k., I said yes and he raised his thumb and smiled. At this moment I became aware of being a bit strange here. I was silent client,  he is used to drive chatty people. I said I really enjoy, later he used translator and we understood more each other. Excellent service!
Castle Izzalini!  Delightful place to stay!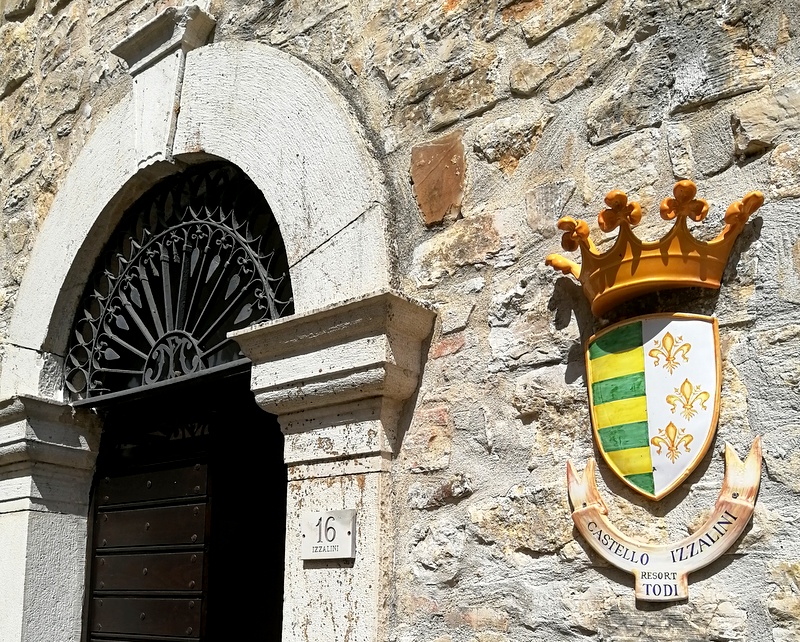 photo Iina Koppinen @ Castello Izzalini | 2018 | Italy
Castello Izzalini, near Todi, is the hotel I really prefer for those who want visit and feel region of  Umbria. This hotel is more than 1000 years, medieval, picturesque rustic surroundings. Amazing! The service at this hotel was excellent! I am grateful for this all! The apartment with all accommodations, living room and bedroom and cozy soft bed, this all was perfect for my needs. Trademark for these modern rooms! From windows you can see delightful landscapes!  Water was sometimes cold, but in principle apartment was perfect, I did not complain.
Rental car is essential, if your passion is cycling, the roads are challenging. There is no swimming pool at the hotel, but some miles from Izzalini is a public satisfying pool. I made my trips from Izzalini, I admired those villages in the hills, which you can not feel in Scandinavian scale.I did sketches, worked, took photos. The surrounding, sleepy feeling but I can go and do my sketches. The life there was so easy, I worked in my own peace, considering what will be the next destination in the hills.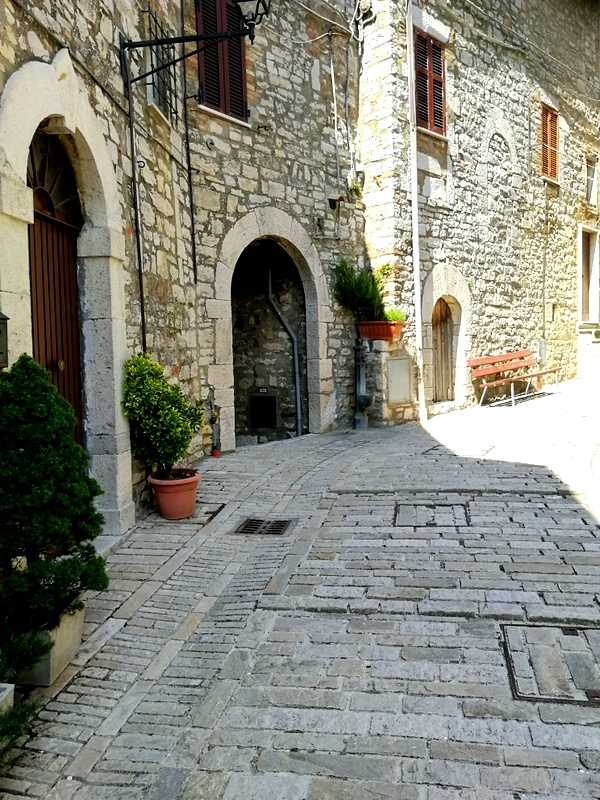 photo Iina Koppinen | Castello Izzalini | 2018 | Italy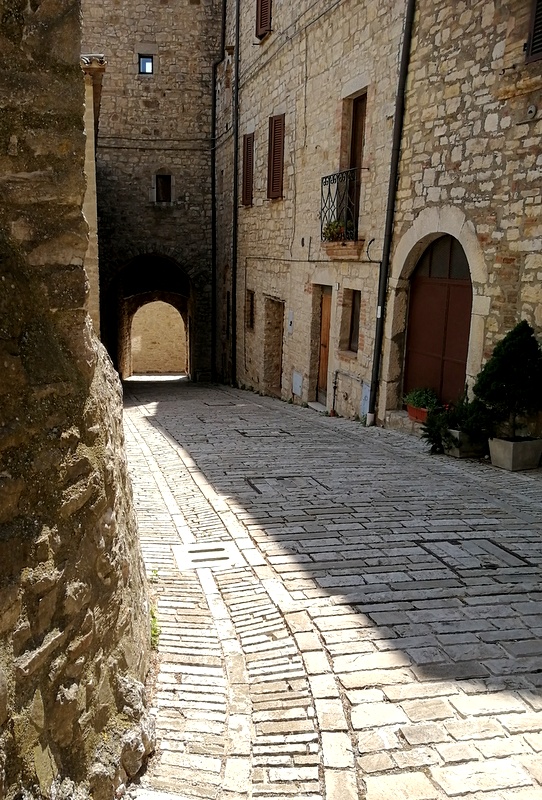 photo Iina Koppinen | Castello Izzalini | 2018 | Italy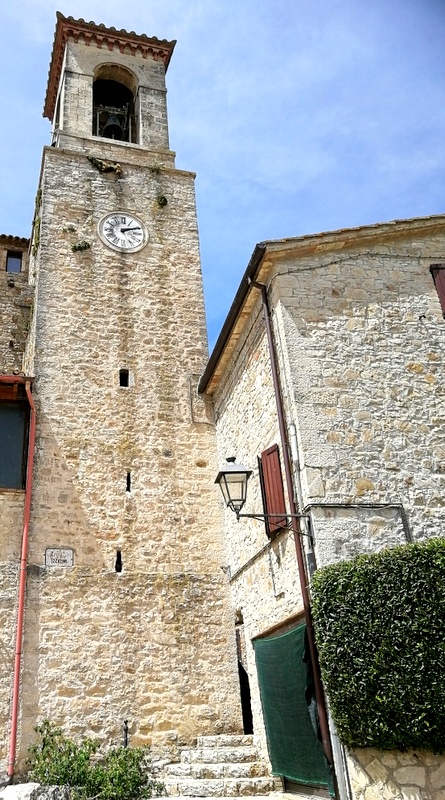 photo Iina Koppinen | Castello Izzalini | 2018 | Italy
I am grateful for the friendly staff of Kairos Kafe, tasty local wines and tasty local food.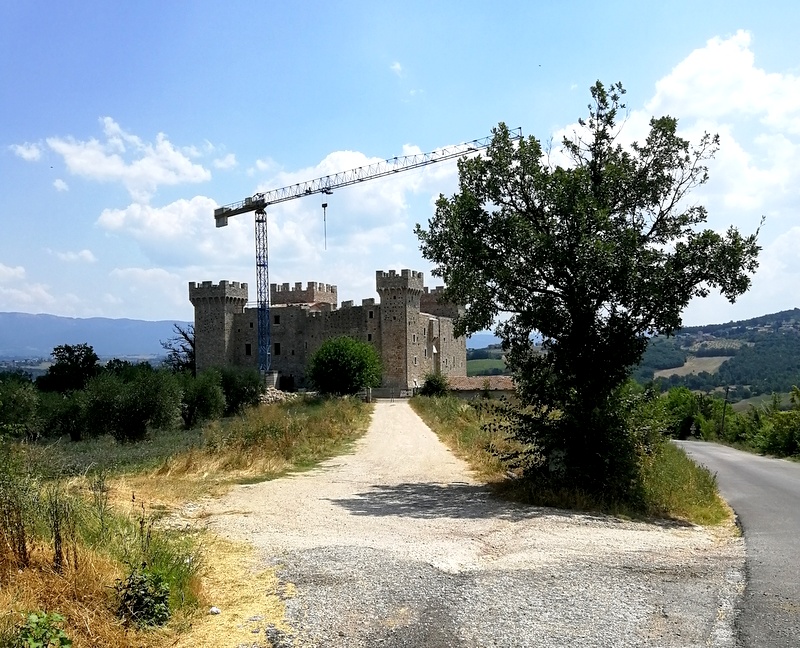 photo Iina Koppinen | Umbria | 2018 | Italy | Restauration of the old castle near the road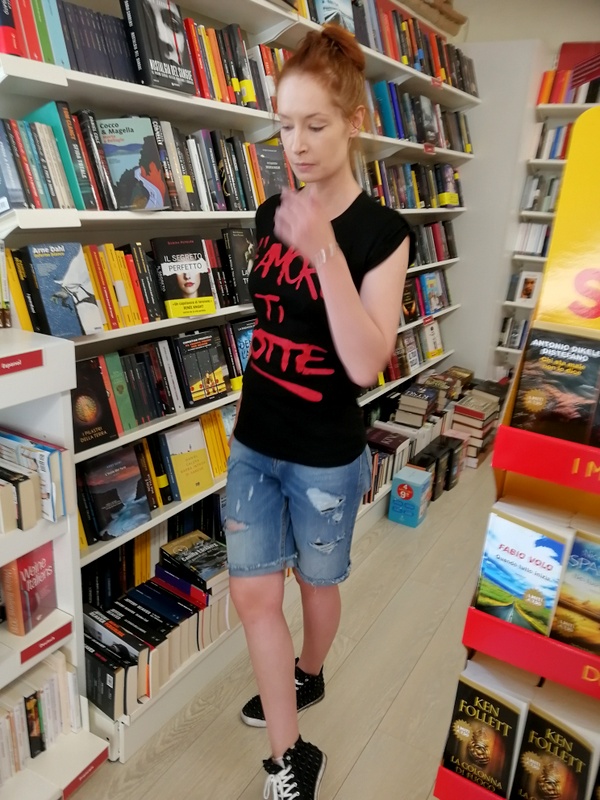 photo Iina Koppinen @ local bookstore | Todi 2018 | Italy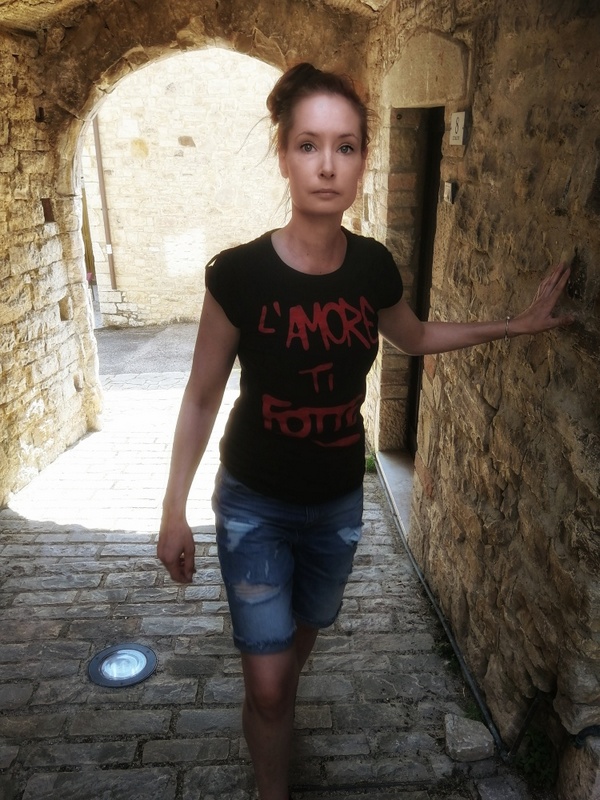 photo Iina Koppinen @ Castello Izzalini | Todi 2018 | Italy
This post contains some photo related details from my work related vacation.. So, guys, if you have any questions – I'll be happy to answer!
xx
Iina
---
---
Advertisement:

Advertisement: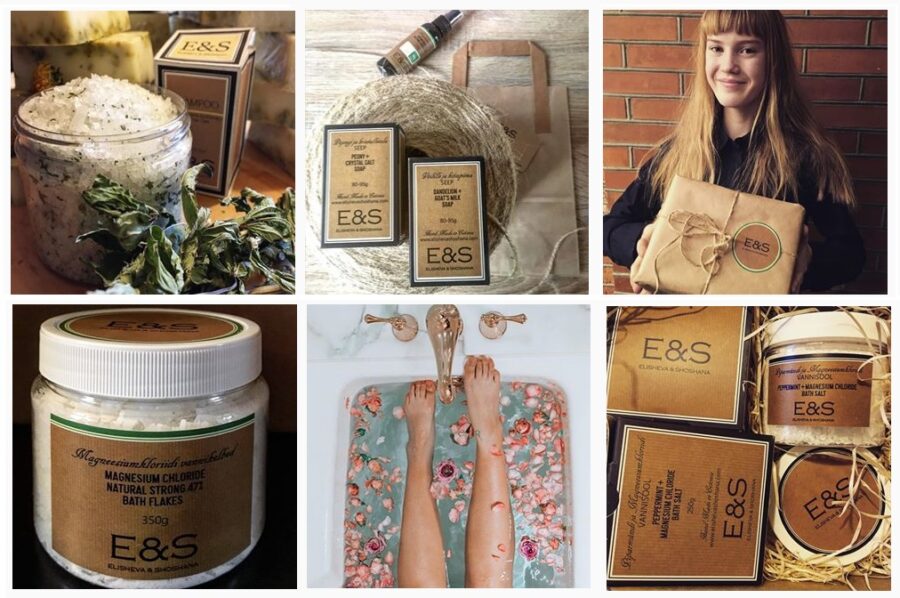 High quality & nature friendly luxury cosmetics from Scandinavia - ElishevaShoshana.com