Ohmygossip.com / Ohmygossip Couture / Celebrity Birthdays / Celebrity Deaths / Celebrity Baby News / Celebrity vacations / Reality TV news / Millionaires / Celebirty Travel News NordenBladet.com / Society & Business / Travel & Culture / Home & Kids / Health & Spirituality / Helena-Reet Ennet´s blog / Daily news from Scandinavia / Royals / Climate crises

Helena-Reet: Growing, collecting and drying herbs for the winter + a LITTLE guide to the effect of various herbal teas!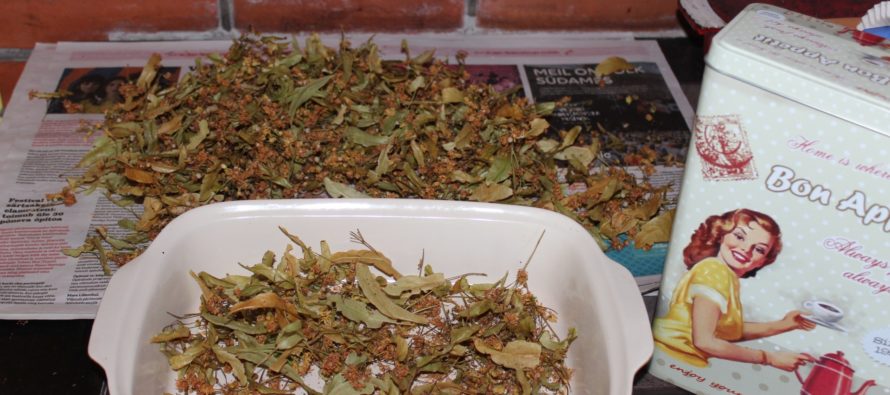 OHMYGOSSIP – During the summer I eagerly make preparations for the winter. I prefer to drink only those herbal teas that I myself have grown, collected and dried. Those have a special power in them. For example, when during summer I drink tea that is made from fresh leaves, blossoms and stems, then for wintertime I gather and dry herbs. Those are perfect to drink daily myself as well as for offering to friends.
My favourites are linden blossoms, peppermint and chamomile, but I also always gather raspberry leaves and stems, and also black currant leaves and common sea buckthorn leaves – all these are available in my home garden. This year I have not yet collected birch leaves and blueberry leaves. July is the best time for gathering the herbs. While many of the herb friends collect and dry the herbs rather in May and June, then I personally prefer the herbs and leaves that have seen a sufficient amount of sunlight and daylight and have saved plenty of the warm and light energy. The daylight can cure! Even a day when there is not much of sunshine has great healing potential!
In order to still increase the healing effects of herbal teas, it is recommended to speak to the tree or bush before picking the leaves – tell the plant that you are there for a kind end, that the plant is of great help, and of course thank the plant for the good harvest. Do not withhold a return – stroke the plant, smile to it and praise it!!
And here is a brief guide to how the different herbs can cure:
Linden leaves – the biochemical compounds of linden leaves are, besides an abundance of vitamins, the saccharides, flavonoids, tannins, phytoncides, glycosides, essential oils, etc. Linden leave herbal tea is well known for its general anti-inflammatory effect, it calms and relaxes and pumps health and vitality into the body. It is used in folk medicine against common cold, fever, the flu, sore throat, pneumonia and coughing. To some extent the tea has a calming effect, also relieving indigestion problems and relaxing spasms and suspending inflammation. From the wisdom of my grandmothers I can tell you that linden leave herbal tea prolongs life and earlier on they were widely viewn as the symbol of immortality. Besides, should you have problems with sleeping, then place linden leaves on your eyes when going to bed and before going to sleep also drink linden leave tea! The power from linden tree calms you and brings you sweet dreams!
Peppermint – peppermint leaves contain essential oils, tannins (6-12%), carotene, flavonoids, ursolic and oleanolic acids. From peppermint's etheric oils 40-70% is menthol and 10-25% is menthone. Leaves also contain tripertens, hesperidin, betaine, copper, manganese and other microelements that widen the therapeutic effect of the plant. Folk wisdom recommends peppermint in case of various gastrointestinal problems from nausea to menstruation pain, also peppermint will relieve irritable bowel syndrome. Peppermint has a calming and relaxing effect. It helps in against neurosis, insomnia and hypersensitivity. Also it is helpful to drink peppermint tea in case of a headaches and nausea.
Chamomile – chamomile flowers contain etheric oils, flavonglycosides, coumarin derivates, hamasulen, choline, vitamin C, carotene, bitter, natural oil and mucus. They contain antioxidants that support the immune system. Volatile oils contain also bisabolol (bisabolol and hamasulen have anti-inflammatory effect). Due to coumarin content chamomile sometimes inhibits the effect of blood fluidifiers (warfarin). Also it may inhibit iron absorption. In folk medicine chamomile is a beloved herb that supports the normal functioning of the gastrointestinal tract as well as the nervous system – it lowers blood pressure, slows down the heart rate and breathing, relieves stress, increases well-being and empathy. Chamomile tea helps maintain the health and welfare of the respiratory tract. It relaxes the throat and the vocal chords. It supprts the immune system. It contains antioxidats. It helps support normal healthy sleep.
Raspberry leaves and raspberry stems – raspberry leaves and raspberry stems contain vitamin C and vitamin E, carotene, fragerine and phenolcarboxylic acid. Raspberry leave or raspberry stem tea helps against stress and nervousness, against diarrhea, it contributes to perspiration and is good to drink in case of a cold (alleviates the sore throat and coughing), helps in case of sensitive gums and oral sores, alleviates swelling, cures skin conditions (boils), alleviates menstrual pain and keeps the skin beautiful, radiant and elastic. In pregnant women it alleviates morning sickness, accelerates and eases the delivery and stimulates lactation.
Black currant leaves and black currant stems – black currant leaves ad black currant stems contain vitamin C, phytocides, magnesium, manganese, silver, copper, sulphur and etheric oils. Also, black currant leaf extract helps excrete purine and uric acid. Due to containing a lot of vitamins the black currant leaves have a tonicizing, invigorating and refreshing effect.
Common sea buckthorn leaves – common sea buckhorn leaves tea boosts the immune system. In case of gum inflammation a strong infusion of common sea buckhorn leaves is of help. Should you wish to strengthen your hair, you can use the tea also for washing your hair. Common sea buckhorn leave infusion, when used to rinse hair, will strengthen the roots, helps avoid dandruff and falling out of the hair.
Birch leaves – birch leaves contain volatile oils, tar, vitamin C, saponins, tannins, flavonoids and in fresh leaves also substances with strong antibacterial effect.
Birch leave tea speeds urine, sweat and bile excretion (it is recommended to drink in case of renal disease and gallstones). Birch leave tea awakens intuitive powers in people and increases sensitivity – releases from fear, doubt and worrying.
Birch leaf tea helps cleanse the organism from toxins, it has a diuretic effect (takes out water).
Blueberry leaves and blueberry stems – blueberry stems contain a lot of vitamin C and neomyrtilline, acting as great antioxidants. Blueberry leaf tea helps avoid changes related to aging and chonical diseases. Blueberry leaf tea is good for the circulatory system, it boosts digestion and lowers blood sugar.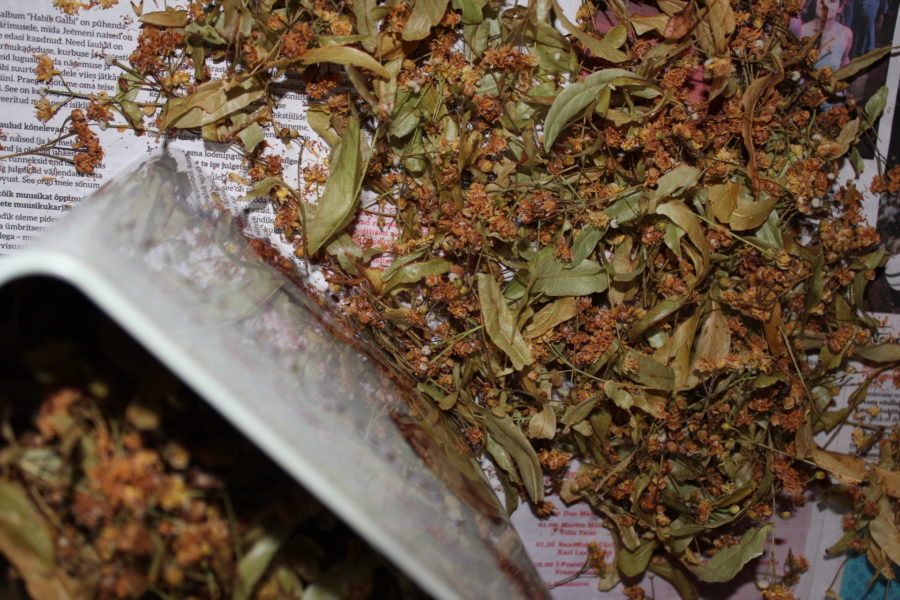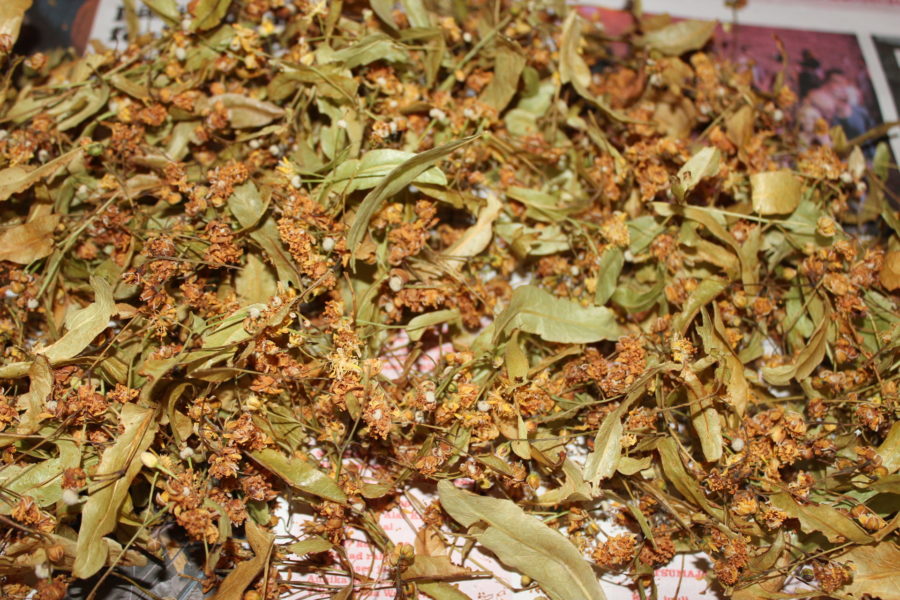 2x Linden leaves (Photo: Helena-Reet Ennet)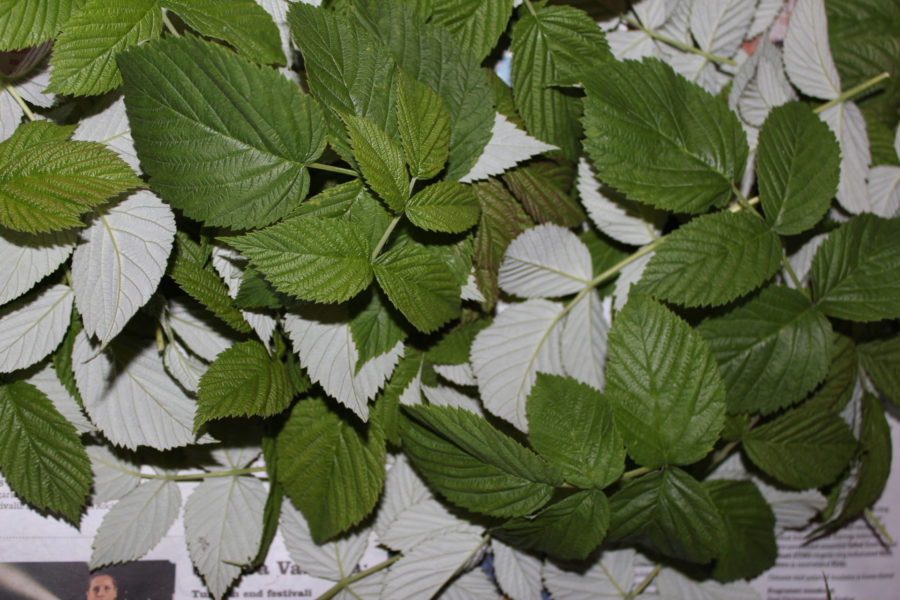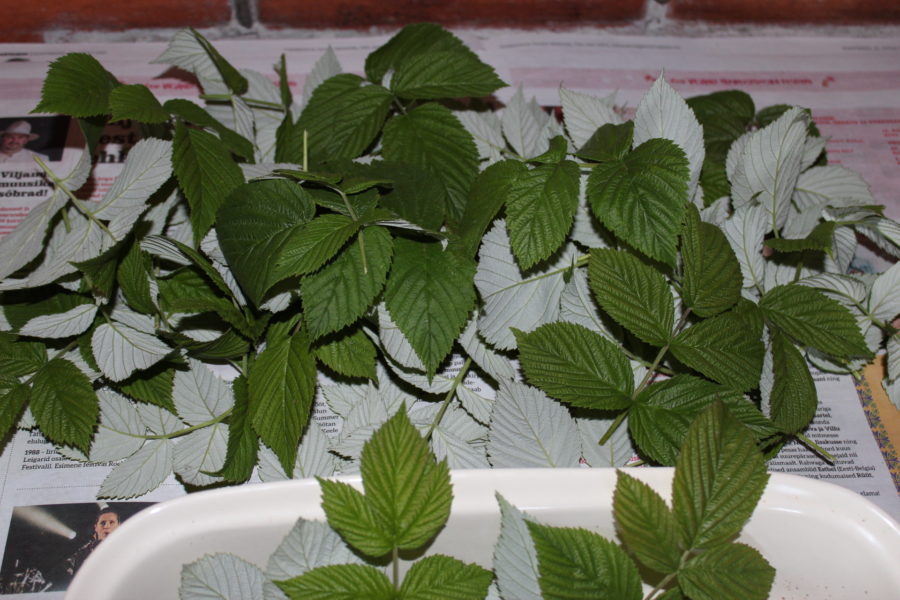 2x Raspberry leaves (Photo: Helena-Reet Ennet)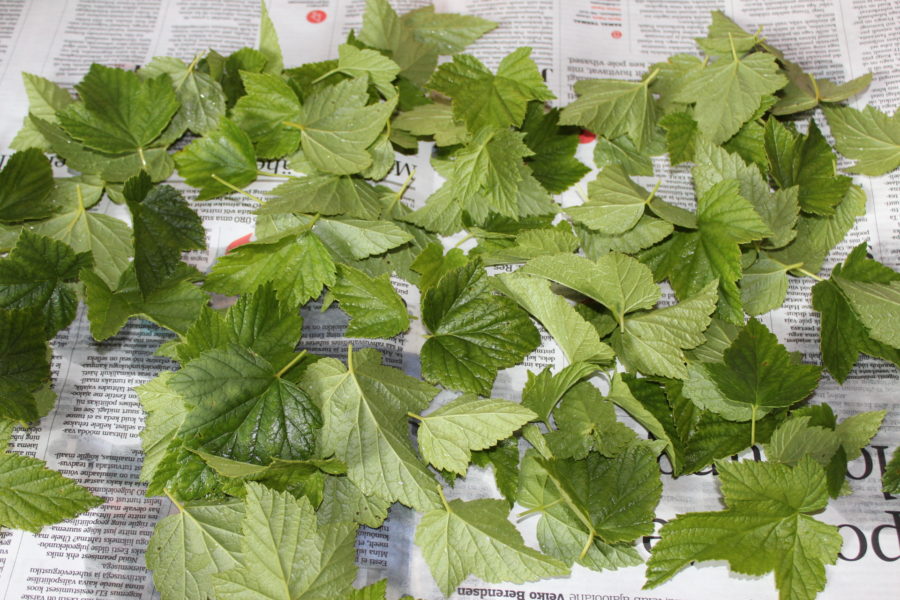 Black currant leaves (Photo: Helena-Reet Ennet)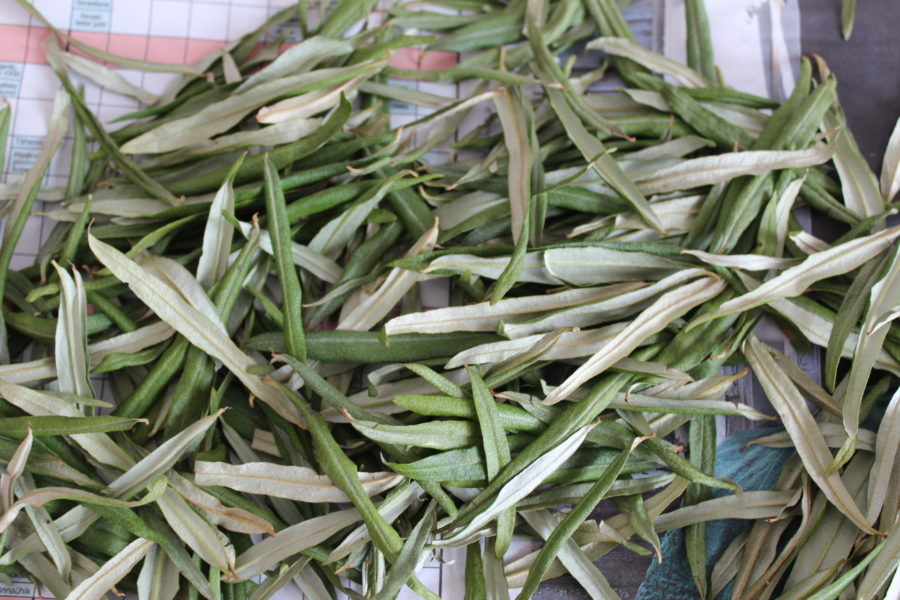 Common sea buckthorn leaves (Photo: Helena-Reet Ennet)
---
Advertisement: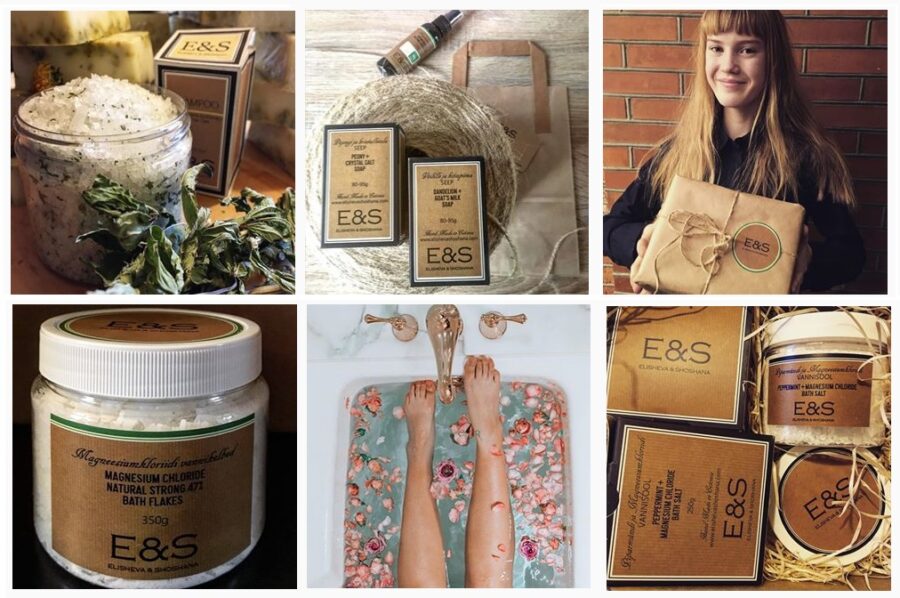 High quality & nature friendly luxury cosmetics from Scandinavia - ElishevaShoshana.com